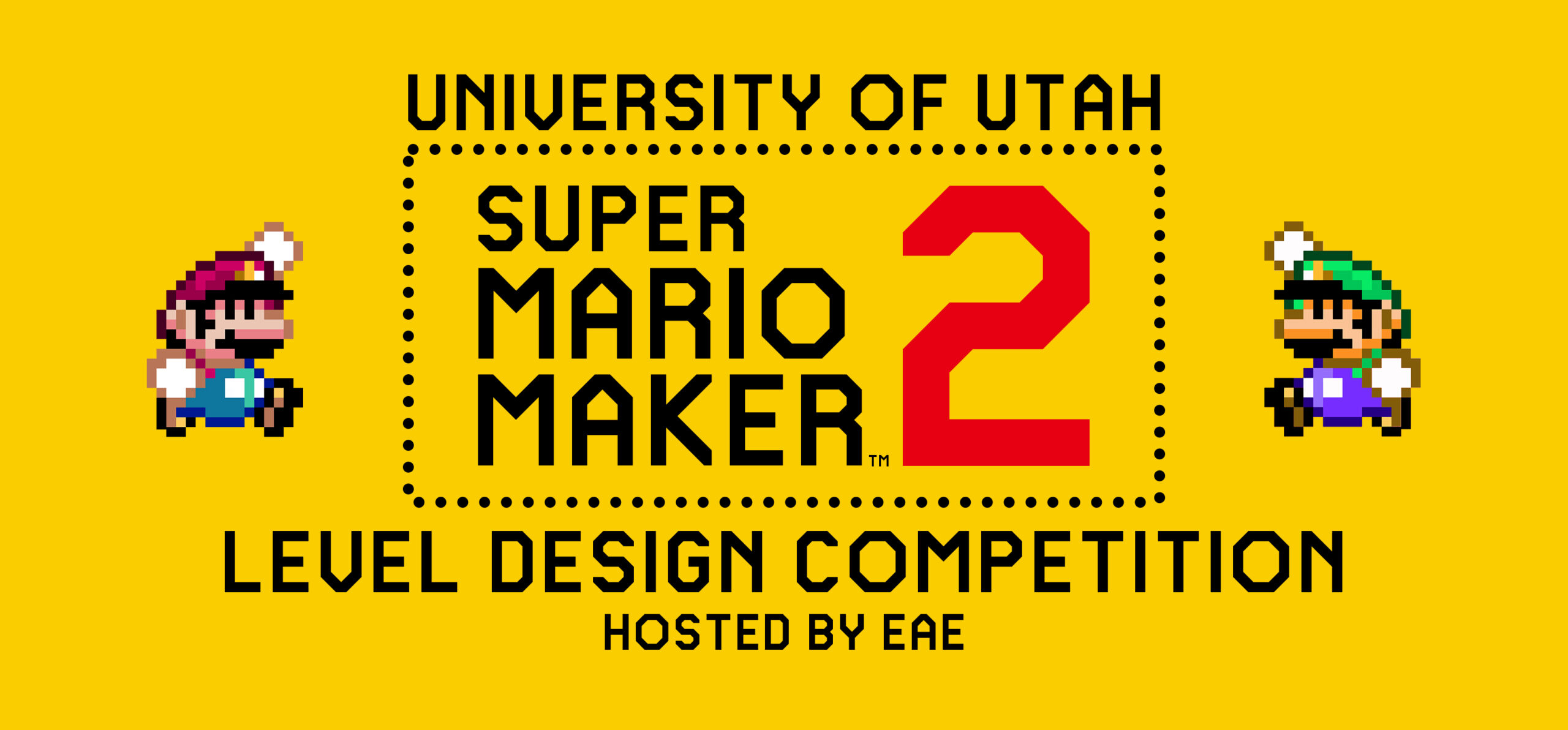 Strap on your designer hat, fire up your copy of Super Mario Maker 2 and get ready for the best level design competition the University of Utah has ever experienced. Hosted by Check Point Professor, Snwbear24, Kosmic, 3DMentor, Scherbie_, Royru, Anneweetwel, TwoDandyGaymers, JZLGaming and presented to you by EAE (Entertainment Arts and Entertainment)
Each one of the hosts will be scoring the levels submitted, and the person who has the highest points total wins. It is important to keep in mind that there will be quite a few streamers playing and judging your level. Their skill level will affect how they feel about your submission so you may want to visit their streams to do your research.
For the latest contest updates and judging schedules follow the Check Point Professors twitter And join the discussion in the his discord on the eae-smm2-contest thread!
Rules
You must make a level with a focus on

Rhythm and Flow

. What is

Rhythm and Flow?

Great question! It could be: A satisfying sequence of gameplay that blends together seamlessly. Or, A level that provides uninterrupted traversal (jumps, bounces, etc…) from start to finish. Really, it is up to you, the designer, to decide what

Rhythm and Flow

looks like and let the judges decide how successful your interpretation is.
Streamers will have 15 Minutes to Play your level, and after that time is up, the level must be judged and scored (Keep in mind, some streamers will publicly share their scores, and some will not, this will be left to judges' discretion).
Non-Family Friendly Aesthetics in levels will not be accepted, this is due to having Family Friendly Streamers and keeping in line with their channel rules. 
No old levels

, all levels must be strictly created for this competition. 
You

must

be a current student, faculty, staff or alumni at the University of Utah for your submission to be accepted into the competition. 
Submit level using this form:

https://forms.gle/zs63919KnRu7C2y58
All submissions must be made by 11:59PM

April 9th 2022 MST

to be accepted into the competition. 
ANY level that does not meet the above requirements will be automatically Disqualified and will not be played on any hosts streams. 
All submissions should carry the hashtag

#EAEUOFU

AND one of the level contest hosts

, e.g., #Kosmic, #Scherbie, #Snwbear24, #Royru, #3DMentor, #CheckPointProfessor, #Anneweetwel, #TwoDandyGaymers

in the description.
*Keep in mind that streamers will only have 15 minutes to play your level, the harder your level, the more difficult for the hosts to see your level in its entirety and this may affect your final score*
Scoring Criteria
Below is  the scoring criteria outline for this contest, please read through this so you are aware of how we will be judging your levels. To get a higher score, you must follow the criteria as much as possible. Each Criteria will be scored out of 5 (Half Points included), so a max score would be 25/25.
Enjoyment – Is the level enjoyable to play? Did the player like the flow of the level? 
Clarity & Timing – The player has clear goals and knows how to achieve them? Can you get through the level without any confusion? Does the level utilize the timer in a correct way?
Originality – It is nice to see something new, is the level creative? Or has the level used old techniques but shown in a new way?
Appearance – How beautifully decorated is your level? Has there been an attempt to make the level aesthetically pleasing? Does the level visually flow well throughout?
Rhythm and Flow: Utilizes the players natural sense of rhythm and the level hooks the player in with a satisfying pattern of sequences, positive feedback and rewards.
Prizes
Physical trophies will be awarded at EAE Launch. Information on additional awards and prizes coming soon.
The winners will be announced at EAE Launch on  April 27th 2022. Good luck to all the competitors who enter what is the Competition! If you have any questions regarding the contest, feel free to message any of the hosts via twitch or any allocated social platform of their choosing. 
JUDGES TWITCH CHANNELS
https://www.twitch.tv/scherbie_
https://www.twitch.tv/snwbear24
https://www.twitch.tv/checkpointprofessor
https://www.twitch.tv/3dmentor
https://www.twitch.tv/anneweetwel
https://www.twitch.tv/twodandygaymers
https://www.twitch.tv/jzlgaming
Thank you and Happy Making!