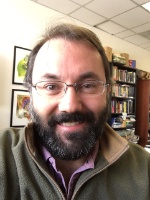 On July 16, 2020, the Higher Education Video Game Alliance (HEVGA) inducted Entertainment Arts and Engineering professor José Zagal into the ranks of the prestigious HEVGA Fellows. Zagal joins a list of distinguished fellows that includes EAE Associate Professor Roger Altizer and EAE Director Michael Young. Established in 2017, HEVGA's Fellows Program recognizes senior scholars in the games domain who have made significant contributions to the field in design, theory, or research. HEVGA Fellows are elected by their peers for outstanding contributions to games-based research and design in higher education. Fellows serve as integral ambassadors for the organization and are inducted as lifetime members.
For Zagal, this is yet another recognition of his significant research and leadership in games scholarship, which also includes being named to the inaugural group of DIGRA Distinguished Scholars by the Digital Games Reseach Association in 2016. "It's a real honor for me to get this recognition and I am truly grateful to HEVGA and its fellows program," says Zagal.  "I also want to thank all the people and institutions that have supported me and my work over the years."
Zagal is the author of Ludoliteracy: Defining, Understanding, and Supporting Games Education (ETC Press, 2010) and editor of both The Videogame Ethics Reader (Cognella, 2012) and, with Dr. Sebastian Deterding, Role-Playing Game Studies (Routledge, 2018). His most recent book, Game Design Snacks (ETC Press, 2019) is an edited collection of nuggets of game design wisdom covering various areas in game design with examples from commercially released videogames.  Zagal currently serves as Editor-In-Chief of the peer-reviewed journal Transactions of the Digital Games Research Association.  He received his PhD in computer science from Georgia Institute of Technology in 2008, his M.Sc. in engineering sciences and a B.S. in industrial engineering from Pontificia Universidad Catolica de Chile in 1999 and 1997.
"This is such a well-deserved recognition!" said EAE Director Michael Young. "José is truly extraordinary: he's both a world-class scholar and a dedicated, innovate and beloved teacher.  He brings the very best of both worlds to everything he does.  EAE students, staff and faculty are lucky to have him as a colleague."