OUR STUDENTS GET HIRED
SEE WHERE OUR STUDENTS ARE WORKING
---
2K
Academy Thread and Ink
Activision
Adobe
Age of Learning
Allen Communications
Alliance Health
Amazon
Amazon Games
AMD
Ancestry.com
Anki
Apple
Archifiction
Arena Net
Autodesk
Autodesk Shanghai
Avalanche Games NY
Avalanche SLC
BaseCamp Franchising
BeachHead Studios
Bee Square
Bethesda
BioFire
BioFire Disgnostics
Bioware
Blizzard
Bosch
Bosskey
Branded Entertainment Managment
Capital Games
Carbonated Inc
CastAR
Certain Affinity
Cetiport
Chair
Clemson
CMA Property Management
Collins Aerospace
ContentWatch
Crytek
Dasrite Media
Daz3D
Dell EMC
DigiPen
Digital Hearts USA
Digital Trike
Dilmer Games
Direct TV
Disney Interactive
Divine Energy Park
Docusign
Dracosoft
Dreamworks
Dreamworks Asia
EA Austin
EA Japan
EA Redwood
EA Salt Lake
EA Tiburon
EAE
Eat Sleep Play
EGI
Enerbank
Epic Games
Equip LLC
Escalation Studios
ESPN
Experticity
Facebook
Freedom! Inc
Friendemic
GameVision Corp
Gearbox
Gilbarco
Globalsim Inc
Google
Gunfire Games
Guv 1 Digital Consulting
Hangar 13
Hardsuit Labs
Harmonix
HD Studios
HeadGate Studios
Hi Rez Studios
High Moon
High Voltage
Hill Air Force Base
Hilton
Honest Cats
Honolulu Community College
Hudson View Labs
IGT London
IHC
Imagine Learning
Institute of Automation, Chinese academy of Sciences
Instructure
International Game Developers Association
Jam City
Jet.com
Karma Automotive
KeemWA Studios
KingsIsle Entertainment
Kwest
LDS Church
Magic Leap
Mentor Graphics
Merge Interactive
Microsoft
Microsoft Gaming
Middlebury Interactive Gurram
Mira Labs
Mobile Coach LLC
Modbot
Motorola Solutions
Mystery Escape Room
Naked Sky Entertainment
Navitaire
Net Ease Games
Neumont University
NeuroPlus
Niantic
Nickelodeon
Ninjabee
Nintendo
Noitom
Oculus
Panic Button
Parallel Plaid
Pioneer Gate
Pixpil
Playstudios
Pluralsight
Pocket Gems
Punk This Studios
Rackware Inc
Rain Agency
Rare
React Games
Red Interactive
Redemption Games
Retro Studios
Revel Media Group
Riot
Rockstar
Rockwell Collins
Rogue Initiative
Salt Lake Tribune
Savannah College of Art and Design Faculty
Sawtooth Software
SideFX
Siemens Medical
Skywalker Sound
SLCC
Sledgehammer Games
Sony Interactive
Sony San Diego
Sony Santa Monica
Spacestation Gaming
Sphyrion
Statespace
Step Pets
Strange Reptile
Studio Wildcard
SubVRsive
Survios
Tell Tale
Tencent
The Rogue Initiative
The Void
Tiered World Studios
Trendy Entertainment INC
Tripwire Interactive
TT Games London
Turbine Games
Uber
Ubisoft
Ubisoft Shanghai
UHEAA
University of Central Lancashire Faculty
University of Missouri Columbia
University of Utah College of Nursing
University of Utah Film Department
University of Utah IT Support
University of Utah Psychology
University of Utah SCI
University of Utah Youth Ed
Unrrestrained Games
US Air Force
USAA
Val G. Hemming Simulation Center
Valve
Vicarious Visions
Viewpoint Games
Wahoo
Walmart
War Drum Studios
Wargaming Chicago
Warner Brothers
Wasatch Academy
Weber State University Faculty
Western Botanicals
Western Governors University
Weyn LLC
Whiteclouds
Wild Card
Wildworks
Willis Towers Watson
Windermere Real Estate
Wisconsin University Faculty
Xaviant LLC
Zapic Inc
Zenimax
Zynga
Alumni Testimonials
SEE WHAT OUR GRADUATES HAVE TO SAY
---
Rachel Leiker
Hardsuit Labs
Lead UI/UX Designer
"Game development is hard, I'm glad I went into it with more understanding of the industry and myself. My time at EAE taught me that there is always time for team morale, iteration and exploration make for a better game, and there's always something you haven't thought of, feedback is absolutely necessary. I carry my experiences with me every time I walk through the door of the studio and I am so grateful for the lessons learned in the program."
Rachel is currently working on Vampire: The Masquerade – Bloodlines 2.
Sydnie Ritchie
Bee Square Games
Game Designer
"EAE has been immeasurably valuable to me. The opportunities of the production track really gave me a set of tools for how to engage with games as a serious medium. The hands on work with projects was the best possible way to learn what it's really like to make a game, and to fail fast in all the right ways. Seriously, the people in this program are amazing. Whether they're running the show, or running alongside you, the EAE team is all about helping each other thrive."
Sydnie is currently working on Almost a Hero on IOS and Andriod!
Cory Haltinner
KingsIsle Entertainment
3D Environment Artist
"EAE set me up for success with their studio-like classroom setup, and the connections and network they offered. I was able to land my first job with Electronic Arts through contacts I made in class, where industry artists would regularly visit to critique our work. EAE helped me reach my potential by surrounding me with talented, passionate people in an environment that fosters success."
Joshua Beedle
Blizzard Entertainment
Game Producer
"The EAE Program played a vital role in helping me land at my dream company. The experience I gained from the Master's Game Production program was invaluable in helping me find internships. EAE provided me an environment to learn and practice my skills to prepare me for a job in the game industry. The lasting friendships I made with people from the program has played a key role in my growth both as a game producer and as an individual."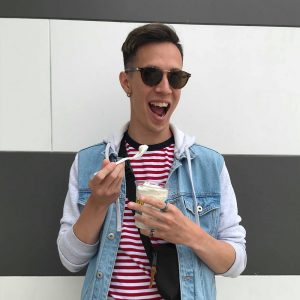 Tri Nguyen
Jam City
Level Designer
"I'm currently working at Jam City as a level designer! EAE was a great experience where I got to work with ridiucously talented people that elevated my skills within the long-form thesis projects. It really helped give me real-world experience on how games are actually made (knowledge that I still use every day in the industry)!"
Garin Richards
Certain Affinity
Associate UI Engineer
"The education and guidance I received during my time at EAE was crucial to my start in the industry. The engineering track proved to be world class with a wealth of experienced instructors and professional insight. It was this combination of a top notch education, emphasis on collaboration, and structure of the Master Games Studio that I believe helped me land my dream job in an industry I admire, working in a medium I love."
Garin is currently working on an unannounced project.