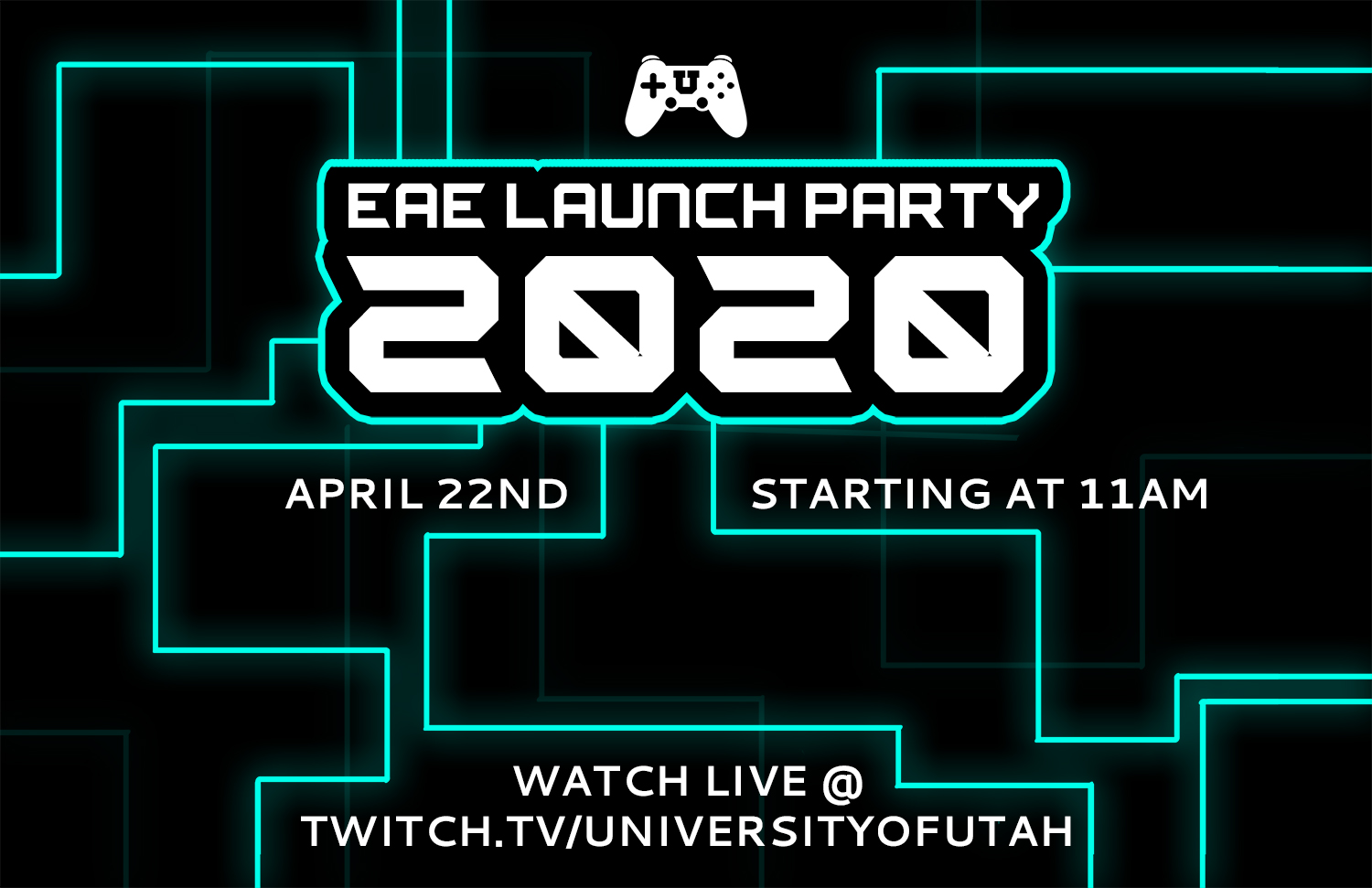 Join us for the EAE Launch Party!
Join the EAE program on April 22, for a special presentation on Twitch. 
EAE and the graduating class of 2020 will present over 45 student produced games,
showing trailers, live gameplay and interviews with the student teams. 
The event will be entirely produced with faculty and students safely presenting their work from home!
Starting at 11am LIVE on Twitch.tv/UniversityofUtah
See all the Masters thesis games and Undergrad capstone games being published this year! Also in the lineup for the day are some amazing games from the first year graduate students using creative alternative controllers, small team games from the undergrads in the Alternative and Traditional Game Development classes, interesting new forms of gameplay from the graduate Experimental Games class, and  innovative and inspiring games being developed in The Therapeutic Games and Apps Lab! There will also be some exciting appearances by EAE Alumni, EAE Esports and Games Industry Professionals!
Cohort 9 Thesis Games

ArchiTac

ArchiTac is a resource gathering and crafting game where you play as TAC, an astronaut who has crash-landed onto a deserted planet. You must search the planet for pieces of your ship and gather the resources you will need to fix it up so that you can continue on your journey.

Chromalition

Chromalition is a game where you and a group of rollerblading street artists fight to take back the streets and bring color and art back to a whitewashed city.

Mya of the Desert

Mya of the Desert is a Puzzle Platformer where you use earth manipulating powers to solve puzzles, overcome obstacles, and defeat a corrupt golem!

Strange Creatures

Strange Creatures is a 1-4 Player couch co-op game where players are strange creatures that use whacky abilities to escape the wicked lab.

We Went Back

We Went Back is a time-looping horror game in which you wake up in an abandoned space station utterly alone. The exit door is locked and you must find a way to escape what lurks within. Find clues, experience dynamically changing environments and confront terror in order to find a way out.
Capstone Games

Ballad of the Masked Bandits

Ever wanted to lead the most notorious bandits in the wild west?!? Well, look no further! Ballad of The Masked Bandits is a puzzle-packed stealth game where you can play as three raccoons in a trench coat pulling off wacky and wild west heists. Either by splitting them or stacking them, the player leads these trash goblins through harrowing and daring crime sprees. By using the power of a duster disguise, inconspicuously walk among humans to reach areas untouched by raccoons. Either on a Mac or PC, come play our game on Steam this up-and-coming May 5th as an Early Access release.

Blaze

The other elementals have been corrupted and are being used by the humans.  They tried to do the same to you, the fire elemental, except you won't be taken so easily.  Utilize all of your destructive force to save your elemental kin and make sure the humans know who is in charge.

Disarmed

Disarmed is a puzzle based dungeon crawler

set in a cruel yet comical parody world in which the player must gruesomely sacrifice their body parts in order to get the healthcare they need.

Henchman for Hire

Introducing Henchman for Hire! -- A first person driving VR game where you take on the role of a henchman for the super villain

Dr. BAD

. Traverse Peace City alongside your trusty V.P.S. (Villain Positioning System™) -- and sabotage Dr. BAD's archnemesis, Justiceman! Drive, jump and sabotage Peace City while traveling on a surprisingly resilient moped!

IMPACT

Venture through a visually striking world filled with darkness, danger, and surprises around every corner. You take on the role of a loader robot in a long abandoned factory, awakened by chance. Make your way through a series of puzzles and platforms in a world now covered in darkness. Use the force of your impacts to send out vibrations that help visualize the world around you, discover new puzzles and their solutions. Along the way uncover the source of the darkness and your ability to end it forever.

Kane's Shadow

Kane's Shadow is an alternative game inspired by trauma release exercises. Guide Kane through his re-discover of a traumatic memory and assist him in releasing his inner demons once and for all.

Killsteel

KillSteel is a demolition derby game where players can use various powerups and momentum to rack up points and score kills. Be the first to establish yourself as the kill leader with two playable maps and a multitude of cars. This is Killsteel!

Personal Space

A puzzler-avoider about escaping the clutches of friendship! Guide your character through different social battlegrounds without spiking their anxiety too high. Think the soft, pastel lighting of

Animal Crossing

with the sound design of

Ape Out

and the objective-oriented gameplay of

Untitled Goose

!

Hell to Raze

Play as the prince of hell fighting to reclaim his throne in this Top-Down Hack and Slash Platformer that focuses on grappling for navigation and combat.

Revel Rousers

As an alien DJ in service to your party god you are tasked with running amok in a boring world to get as many party animals and to clear enough space to throw a rave epic enough in time. You'll fly your UFO DJ booth leading your party mob through a fully destructible, physics based city to find as many boring people to join you as you can before time runs out and you get a visit from the party god who will be expecting an epic party! Topple buildings, convert the boring people and throw a massive rave!

Sand to Surf

Gain and maintain speed as you surf the treacherous sands of an ancient desert to rescue your world in this blend of the extreme sport and adventure gameplay genres.
Cohort 10 AltCtrl Games

Coscoroba
Off the Tracks
Welcome to Earth
11am -
11:15am -
3pm -
4pm -
5pm -
5:40pm -
6pm -
6:45pm -
7pm -
7:30pm -
9:30pm -
Opening remarks from Director of EAE, Michael Young
Undergraduate Capstone Games
Graduate Cohort C10 Alternative Controller Games
Undergraduate Alternative Game Development
Undergraduate Traditional Game Development
Graduate Experimental Games
EAE Alumni Panel
Esports
The Therapeutic Games and App Lab
Graduate Cohort C9 Thesis Games
Closing remarks from Michael Young