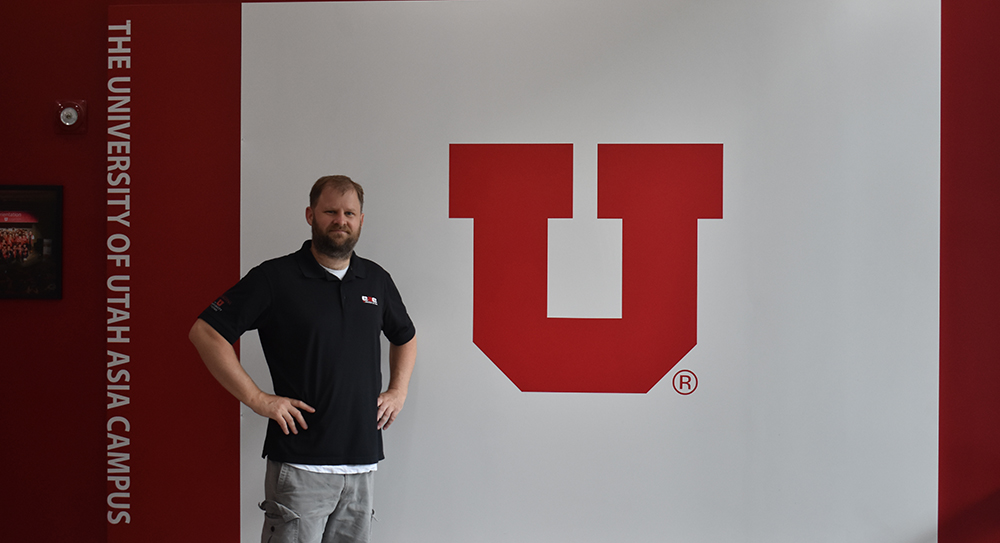 Gabe Olson, Assistant Professor and Lecturer for Entertainment Arts and Engineering, traveled to the Utah Asia Campus in Incheon, South Korea for the next 6 weeks teaching a 3D Game Asset Creation class.
This course is designed to introduce individuals to the fundamentals of creating game assets from an industry perspective. In particular, students will become familiar with production techniques such as modeling, UV mapping, creating textures, optimization for games, and other aspects of game art asset creation. All this will be done with a focus on efficiency in design, color, balance and usability in a modern game engine. Many assigned projects will be based on industry art tests.
"I am just a couple days into this course and it has already been a lot of fun." Says Olson.
The classes are similar to what is taught at EAE but much more accelerated, since each course is taught daily for 3 weeks. Though the students have an interest in games, none of the students here are Games students. Most are pursuing a degree in Film or Communication. That being said, the excitement level for these classes is high and they are super excited to be taking them.
The next 3 week course he will be teaching in Korea at the Utah Asia Campus is Level Design:
Through lectures and a project based approach, students will design and iterate levels of their own creation and design using unreal and blueprints. There will be an emphasis on par with professional creation and iterative pipeline. At the end of the course students should be expected to not only be able to build a level(s) from conception to working prototype, but to also be able to explain the reasoning behind design decisions and game play. Peer feedback will be utilized to help students gain an eye for discovering what makes successful level design.